Distributor Quick View
The Distributor Quick View enables subscribers of Connect Plus, Platinum and Prospect Hunter to see any distributor's basic credit and contact information. It also gives you access to the distributor's reports.
To access the Distributor Quick View, click on any red ASI number link. For example, from the Connect homepage, click on the red distributor ASI number in the Monitor list area.
Connect will open the Distributor Quick View.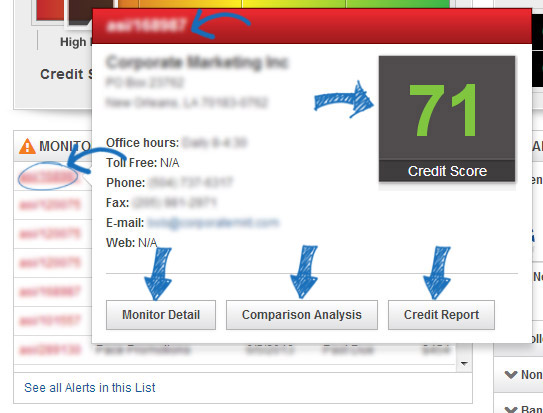 The distributor's ASI number will be available in the red header section. Inside the window, the distributor's company name, address, office hours, phone number(s), fax number (if available), email and website information will be displayed. The credit score will be prominently displayed in a grey box with large green numbers.
At the bottom of the Distributor Quick View, there are three buttons available:
Monitor Detail: View the full Monitor Detail Report, which includes average pay habits, past due transactions, non-sufficient check and turn over collections/write-offs.
Comparison Analysis: View where the distributor is grouped amongst reported volume of purchases for the past six (6) months.
Credit Report: View the full credit report for this distributor.