In the Product Options section we can type in one product number to search; or use commas to search for multiple item numbers (for example: 101,102,103).
To the right of product number, there is a field for ASI/Supplier Name/Linename. Type in an ASI number, supplier name, or linename, and then the matching results will appear.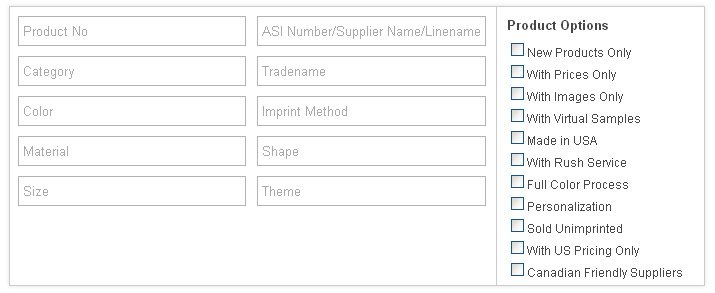 The next search field is category. Start typing the category you would like to use and the available categories will display. The application does a letter for letter partial match of the information we type. Make sure you select or click on the category to use it in your search.
Next to Category, the tradename search works the same way. Trade names are also commonly referred to as Brand Names. Type in all or part of a specific tradename and you will see the matches appear below where you have typed. Click on the tradename you want to use from the dropdown menu.
There are also search fields for: Color, Imprint Method, Material, Shape, Size, and Theme. Enter values in any of these fields to show a menu of available options to include in your search.
The Product Options checkboxes make it quick and easy to select criteria. Placing a check next in one of these boxes will ensure your results have only results classified with the checked criteria.