In the Edit Products area, will see each product in your presentation. Hover on the product thumbnail, click on the Select Product link and it will open in an editable state.
Next to each data field, there is a Show/Hide link and an Edit link. The Show/Hide link enables you to select which fields you would like to have displayed. The Edit link will open the field in a completely editable state.

The "Upload a New Product Image" link will enable you to upload your own image to use for the product. You can browse your computer or drag and drop image files to replace the product image.
Below the image is the Create a Virtual Sample button for all virtual sample ready products.
If the product has configurable options, such as multiple price grids or images, there will be a configure product pop out to tailor the product's information to exactly what you need.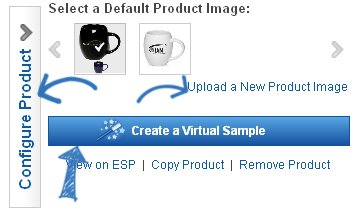 The last section on the page includes the pricing information for the product.
Each available price grid will be shown for the product. You can click on Hide to not show any pricing information or can change pricing in the editable grid. If you make pricing changes, click on Save.